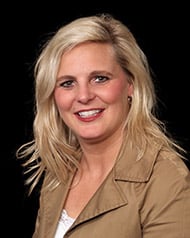 Education:
University of Indianapolis, Indianapolis, IN; Bachelor of Science
Indiana University School of Dentistry, Indianapolis, IN; Doctor of Dental Surgery
University of Kentucky, Lexington, KY; Residency Certificate
Dental Area of Focus:
Pediatric Dentistry
Affiliated/Dental-related Associations and Organizations:
American Dental Association, American Academy of Pediatric Dentistry
Volunteer/Community Involvement:
Children's Ministry volunteer at Granger Community Church
Volunteer at Prairie Vista Elementary School – Accelerated Reader Program, Committee Chair, and Math Pentathlon volunteer
Message to patients:
"I love working with children. It is my mission to provide a positive dental experience for your children."
Hometown:
Elkhart, IN
Hobbies/Interests:
Snow skiing, waterskiing, watching my kid's soccer games
Book Online Now
Complete the form below to book your appointment today.
Office Hours
Monday

8:00 AM – 5:00 PM

Tuesday

8:00 AM – 5:00 PM

Wednesday

8:00 AM – 5:00 PM

Thursday

8:00 AM – 5:00 PM

Friday

8:00 AM – 4:00 PM
* Saturday by appointment
CareCredit
CareCredit is a healthcare credit card designed for your health and wellness needs. Pay for the costs of many treatments and procedures through convenient monthly payments.
Our patients leave smiling


Dr.Reed was so patient and caring while pulling my 3yr sons tooth along with her two assistants they talk to him and made sure he was relaxed and calmed him when he was anxious. I couldn't have asked for a better staff

Samii L.



Very good with children. Very thorough with exams and questions. Enjoyable experience.

Myles M.



Fast Service and friendly people…

Landon D.



Everyone we came into contact with were very pleasant and friendly. I was very relaxed in Your environment and felt welcomed from the start to finish

Brooke G.



Always a friendly staff

Hailey A.



Very helpful!

Frederic D.



Doctor was very friendly,explained everything,staff was also very friendly!

Magaly G.



Service is great.

Broc D.



Love the dentist she is very personable and considerate. Great outgoing personality. (Female dentist not the male)

Kai N.



Cause i love the effectiveness that yall give every patient and nothing is rushed and everyone recieve the amount of attention needed

Ronald J.



So polite & friendly !

Lilly H.



Very friendly and did excellent with my son.

Stanley V.



I'm pleased with the results of Miles braces

Miles W.



Great care this appointment

Aspen G.



Very nice service

Jasmine M.



Did very well at getting my daughter to get to know you better before you just took her to do her teeth

Skyaira P.



I love the employees always nice and pleasant.

Tessa L.



always kind , care for my children as if there own great group of women .

Alejandra G.



First time great experience…everyone is really nice and professional I loved it wouldn't go anywhere else i was afraid my kids were going to be scared but they treated them with lots of kindness and patient's that they gave in

Aubrey R.



Very professional and time efficient. Boys were both comfortable.

Aaron A.



love everything!

Emerald A.



love everything

Landon A.



Everyone in the office is very personable!! Everyone smiled and talked with such ease and with a caring nature. The dentist was honest and gave me options for care. My appointment was at 9:15 and they took me back at that time. Very prompt with your appointments.

Liliana G.



Great drs

Jessica S.



The hygienist and denist are always very nice and understanding. Great experience for my special needs daughter and me.

Lydwine W.



Great service

Mark D.



My son was going to a different dental office, smaller dental peds, only two dentist in the practice. however due to being without insurance for 10 months . This is the location that I needed to bring my son so I could continue his dental care. Your office has been caring, answered questions when asked and staff has been overall nice. I can return back to our peds dental office since I have insura…

Anthony G.



The gal who worked on Catherine's teeth was very skilled at the cosmetic work which Catherine was getting done. She also was very kind and tried to help us visualize what the final product would be before starting the procedure.

Catheri D.



Because they treat my daughter very well and she isn't afraid to be there

Serenity S.



The staff was friendly and great with my three year old.

Braelyn W.



Professionalism, waiting period wasn't that long to be called back.

Jariyah W.



Staff are amazing

Hannah S.



Love how they talk to before they do anything to your child or ask questions about things you watching out for at home

Rihanna K.



Friendly, knowledgeable and pleasant staff!

Alexis M.



Good service and nice people

Criss C.



y son is autistic, and they were wonderful with him and very patient.

Payton M.



Everyone seems genuinely caring. It makes you feel much better when your child is not so sure about everything.

Carmen C.



Gerri was fantastic. Great experience!

Margaret S.



Everyone was very kind and professional.

Ava H.



Dr. Lauren was so nice and gentle with Terry, the dental assistant was so nice also. I can tell the dentist's really take pride in their work and I love that.

Terry M.



Genesis got a filling and she was very comfortable and content and I was nervous for her but I was made feel at ease.

Genesis H.



Very Nice People!! Fast and effective!!

Sean L.



Everything went perfect.

Jamie H.



My daughter was so nervous to have her first filling done. The hygienist that came and got her, was so upbeat, positive and energetic. My daughter came out after the procedure, smiling and talked about how fun the hygienist was for hours afterwards!! Thank you

Mackenzi C.



Every one was very respectful & polite & didn't mind answering questions

Jaden K.



People are always nice and answer all questions.

Mark M.



My daughter had a not very good experience at her first dental check at another practice. She was so much happier and said the she really liked Dr. Reed. Dr. Reed was so great with her and it made me very happy and not as nervous to take her the next time!

Annaleigh B.



Everyone was so kind and sweet to my kids. It was a breath of fresh air.

Izabella T.



All of the ladies are so kind and gentle with the children and they are super friendly and knowledgeable!

Noah W.



Service was great from behind the counter to the actual visit

Samantha G.



Dentist was extremely helpful.

Chelsea C.



Everybody was great

Madeline M.



My kids love going to this dentist! I appreciate how patient they are with my children and everyone is very nice. I am very happy with Smile Safari!

Lee W.



The office staff had lots of experience working with young patients and did an excellent job interacting and caring for our son who had an emergency dental situation.

Cameron P.



Helpful and quick to respond to patients needs.

Lael M.



Everyone is always friendly and appt time starts on time.

Zoe A.



I like the service i get from the place it is wonderful keep it going

Bella U.



Great caring staff

Jackson S.



Great staff! Friendly, helpful and great with children.

Braylee M.



The staff was wonderful with my son, who has Autism. They didn't push him and found ways to do an exam that didn't frighten him.

Elijah V.



We were in and out and the staff was Wonderful.

Sophia V.



The dental hygienist and the dentist were fabulous with my 4 year old. So calm and patient. She had a great experience.

Natalia M.



We always have a pleasant experience & everyone is very nice to my son. I also feel like things are explained well, & I'm asked before procedures are done.

Donovin B.



Everyone was wonderful, kind and very understanding!

Evan F.



Very polite staff made me feel welcome

Valeria G.



You guys were awesome and made my four year old feel at home. She went back and got two fillings without me and didn't even get upset. The staff is amazing and so considerate.

Estellise B.



Staff always so kind and explains everything with details step by step of they are going or did to my child

Daniel A.



Felt like the dentist listened to me and concerns. Didn't feel rushed

Khale L.



Caring , fun and goofy doctors . Experience overall was great

Andrea G.



Great compassionate care. The hygienist and doctor worked so good with my little ones first dental visit.

King G.



Nice service. And great job

Juliette C.



Staff were very knowledgeable and came to aid in a reasonable amount of time.

Noah S.



Just an excellent place

Alexis F.