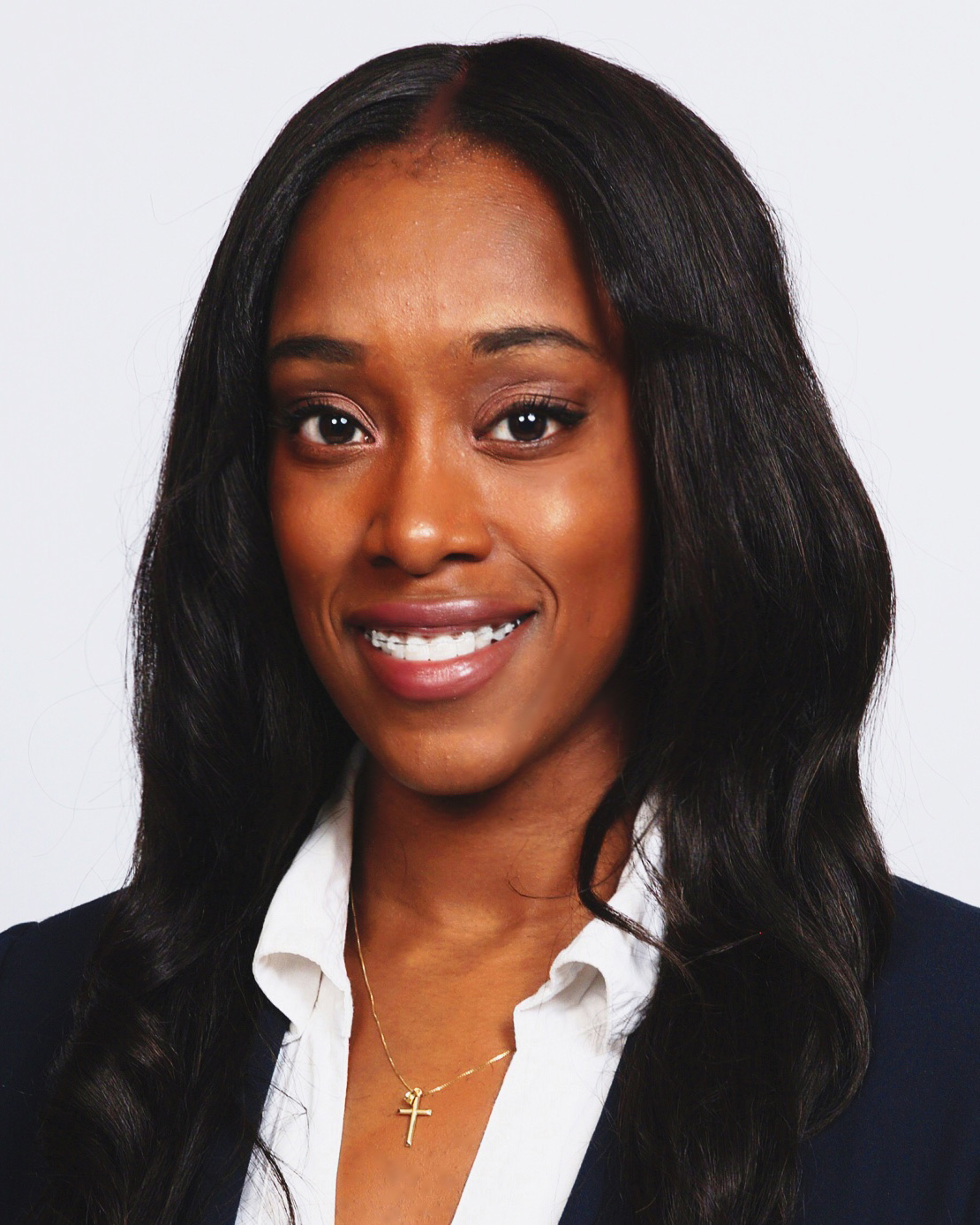 Dr. Gyasi specializes in Pediatric Dentistry, making dental experiences pleasurable for children and their parents by creating a fun and safe environment. She establishes goals and treatment plans for her small patients which makes building a rapport with parents a success.
Education
Riley Hospital for Children at Indiana University Health, Indianapolis, IN; Pediatric Dentistry Specialty Certificate, Masters of Science in Dentistry
Meharry Medical College- School of Dentistry, Nashville, TN; Doctor of Dental Surgery degree, graduated Magna cum laude
Pennsylvania State University; Bachelor of Science in Life Sciences, graduated cum laude
Dental Area of Focus:
Pediatric, General, Preventative and Restorative Dentistry
Affiliated/Dental-related Associations and Organizations:
American Academy of Pediatric Dentistry
Notable Achievements, Recognitions
The James Weddell Scholarship, Riley Hospital for Children
Summa cum Laude, Meharry Medical College School of Dentistry
Who's Who Among Students Award, Meharry Medical College
The Alphonso Pinkney Endowed Scholarship, Meharry Medical College
The Samuel J. Hill DDS, Endowed Scholarship, Meharry Medical College
The Fredrick Pierce Scholarship, Meharry Medical College
cum laude, Pennsylvania State University
Hobbies/Interests:
Spending time with family, traveling and exercising.
Book Online Now
Complete the form below to book your appointment today.
Office Hours
Monday

7:30 AM – 4:00 PM

Tuesday

9:00 AM – 6:00 PM

Wednesday

7:30 AM – 4:00 PM

Thursday

9:00 AM – 6:00 PM

Friday

7:30 AM – 3:00 PM
CareCredit
CareCredit is a healthcare credit card designed for your health and wellness needs. Pay for the costs of many treatments and procedures through convenient monthly payments.
Our patients leave smiling


Dr Lauren was the best with my special needs daughter. The team was great. Made all the accommodations she needed to get her teeth taken care of. Thank you so much and we will be back

Rae B.



After screening many other pediatric dentists, I found The Dental Center of Goshen. Their customer service was exceptional and they were thorough, kind and professional during my daughter's visit.

Grace B.



Prompt, courteous service. Everyone is personable.

Erma M.



The staff are VERY nice and there was a TV in the room.

Kamryn A.



Dr. Cochran is so great at what he does and the staff are all friendly and knowledgeable. They made going in for fillings so much better than I could have thought possible. Nice to see people who enjoy what they do and genuinely care about making you as comfortable as possible. Also my fillings are exactly the same shape as my own teeth so my bite didn't change! Thank you, thank you, thank y…

Jaclyn B.



I am terrified of the dentist and dread going and the entire staff were gentle and upbeat and kept me at ease. I have no nerves about returning for my next routine cleaning.

Katie K.



Ease of appt and staff are great!

James T.



I would recommend this office to anyone. From the girls in the front all the way back…they are professional, caring, and amazing.

Angie A.



Great staff and very good with kids.

Alexis W.



The staff was incredible. My whole experience was more than I could have ever expected. Amber is amazing at her job. Thanks for everything you guys do!

Vanessa G.



U r great with the my daughter and she loves to come and see Emily

Amy J.



Friendliness, thorough, and on time

Rebecca C.



This was my second visit to the dental center in Goshen they are wonderful. My first visit was a cleaning. My second was to put my crown back on after it came off. They are awesome thank you so much for the great and fast service.

Sue M.



The hygienist was very good. I had very little pain after my 6 month cleaning.

Douglas M.



They were great with my daughter

Lizbeth M.



Everyone was extremely friendly and professional, making the experience more than pleasant!

Garrett S.



So far the customer service is excellent. The dentist was professional. Scheduling an appointment was easy.

Kelsey B.



Friendliness of the dental assistant.

David B.



Great staff

Jairy G.



Staff is always genuine and pleasant. I have visited 5 locations in this area, and they are always the same level of courtesy and professionalism.

Randall P.



Great staff that is very friendly. The prices are very good too.

Randall P.



The staff is Pleasant professional and thorough

Nanci W.



The doctor assistant was very nice and explained everything to me in detail…she was very understanding and patient as I have dental anxiety…overall everyone was great…

Maribel S.



Good service..

Adriel R.



Dr. Cochran

Jonale H.



Excellent service, care, and lots of patience with me as I'm not an easy patient. Thanks, you made going to the dentists office less stressful and that means a lot to me. Highly recommend!

Scott B.



Friendly and efficient

Glenn G.



They are really kind and generous people.

Scarlett G.



overall experience in the past and most recent visit.

Kenneth M.



I'm always given the very best care by the people at The Dental Center

Kleasha J.



Very nice and got me in and out in a timely manner

Carlene M.



Wow, my mouth feels clean and I am confident that all is well. Great place.

Carol D.



A great place! Great with kids, everyone is very nice

Jacob Y.



Friendly, caring staff.

Lisa P.



You are patient, calm, friendly, and encouraging. I appreciate you explaining things to my kids on their level so they understand! You've definitely helped my fear of the dentist!

Samuel W.



Staff is very friendly and professional.

Lucia O.



Staff is always friendly and knowledgeable!

Kevin M.



I'm So happy with my higyenist, she did a wonderful job !!!! I definitely recommend this place. Thanks Brandy you are the #1!!!

Van R.



Great service, fast and efficient

Michelle D.



The dentist that we saw for the first time was kind, patient, and very informative on the plans made for my son, who was so very fearful and the ladies/assistants were wonderful as well. Going the extra mile to help my little guy with his fear. We will be back.

Jessica B.



The patience and kindness given to my little ones was beyond measure!

Logan B.



Dr. Mummert is amazing with children. My child went in for their first filling and I was extremely nervous. She talked to my child through the whole process and kept her relaxed.

Emmalynn K.



Staff was very patient and kind with my Autistic teenager. Made him feel safe in a unknown environment.

Tyler C.



Quick and easy crowns. They look and feel great. Awesome job. Thank you

Tammi W.



Friendly staff, fast, no waiting

Debra M.



The hygienist was excellent, very professional & spent quality time on my teeth.

Linda M.



super friendly people and gentle and great with my boys! defiantly recommend them to anyone! I also love them to for my own care all around great experience and great dentistry!!!! :-)

Dawn H.



The overall experience was superb.

Kyara W.



I have been seeing Dr Cochran for several years and am very pleased with his care. I trust his opinion of work needing to be done and quality of his work. The staff has always been courteous.

Jo D.



my daughter feels very comfortable with the dental center you work very well with children ..

Dorathy P.



Very nice hygenist and did a good cleaning on teeth

Gail W.



Very happy with my son's experience with Dr Lauren!

Jody D.



This is a reliable and well connected dental center with the means to realistically meet any need.

Erin M.



Courteous, quality service. Reasonable, upfront pricing. Recommendations without guilt trips.

Torin E.



The staff, the dental assistants and especially the doctor are so welcoming and wonderful with children. It is unlike any other dentist office I have been to … Very, sincerely caring.

Giovanni M.



I'm always so hesitant to go to the dentist, but going to the Dental Center of Goshen definitely makes it easier! The staff is super friendly and they know what they are doing. My 2 year old has also been here for a dental check-up and they did a great job with him! Keep up the awesome work!

Rebecca C.



The staff is always kind and informative!

Melanie M.



Friendly and professional service. They take the time to listen to what you have to say.

Sue C.



Made me feel comfortable when I was scared

Tammy S.