Posted under:
General
Posted on: March 3, 2015
When a Root Canal is Right for You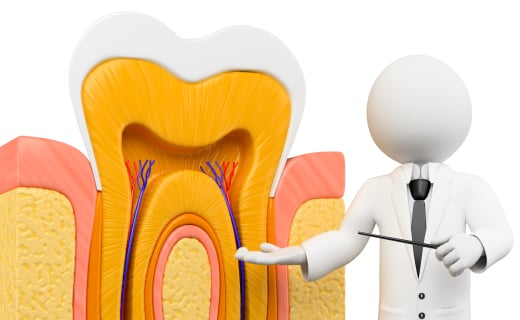 If you're having any dental discomfort, you may need to get a root canal. There are many different symptoms that you may feel and face, but below are the most frequent signs that you need to seek treatment.
Symptoms – There are many dental problems that a root canal can relieve. When you need to get a root canal, pain is the common obvious sign. Yet there are other symptoms that you may notice, along ones that only an affordable dental care expect will be able to detect. These include:
Pain when the tooth is touched.
Discomfort from slight to extreme around the infected tooth.
Sensitivity to hot and cold temperatures.
Swelling and tenderness of the gums.
Discoloration of the tooth.
Inflamed nerves.
Cracked or chopped teeth.
Previous unsuccessful treatment.
Tests – If you experience any of these symptoms, you should make an appointment with your dentist or an affordable dental care specialist in endodontics in South Bend. Many times, it's your dentist who will first notice a problem during one of your regular check-ups. Either way, the real root of the problem will be determined through one of these tests:
X-rays of the area.
Probing of the tooth.
Electric testing to examine the tooth's inner pulp.
Thermal testing where extreme temperatures are applied to test the nerve.
Steps Until Treatment – Ignore the myth that there is root canal pain. The only root canal pain you'll feel will be from the problem before treatment. You may have to wait a few days for your dentist or a specialist in endodontics in South Bend to perform the procedure. Try these simple at-home remedies to ease the pain while you wait:
Place ice over the area to soothe the tender nerve.
Don't put pressure on the painful tooth.
Take an over-the-counter pain reliever.
Get an antibiotic if you have an infection.
Try to rest and relax until your treatment.
To learn about our family dentistry practice in South Bend, call The Dental Center of Indiana today or make an appointment.
---
The Dental Center of Indiana offers affordable family dentistry and gentle, compassionate dental care in South Bend. With 6 affiliated practices throughout Indiana, our offices are conveniently located with extended hours to meet your needs. At The Dental Center of Indiana, we provide most dental services, from basic preventative care and general dentistry to specialized procedures and complete dental reconstruction. We accept most dental insurance plans and offer affordable financial solutions for any budget. Patient satisfaction is our top priority and we strive to provide the exceptional, affordable dental care and personal touch that lead to lasting relationships. A smiling patient is our greatest reward and we look forward to keeping those smiles healthy, beautiful, and bright. Discover an affordable dentist who truly cares at The Dental Center of Indiana.