Posted under:
General
Posted on: December 3, 2021
What to Expect During a Tooth Extraction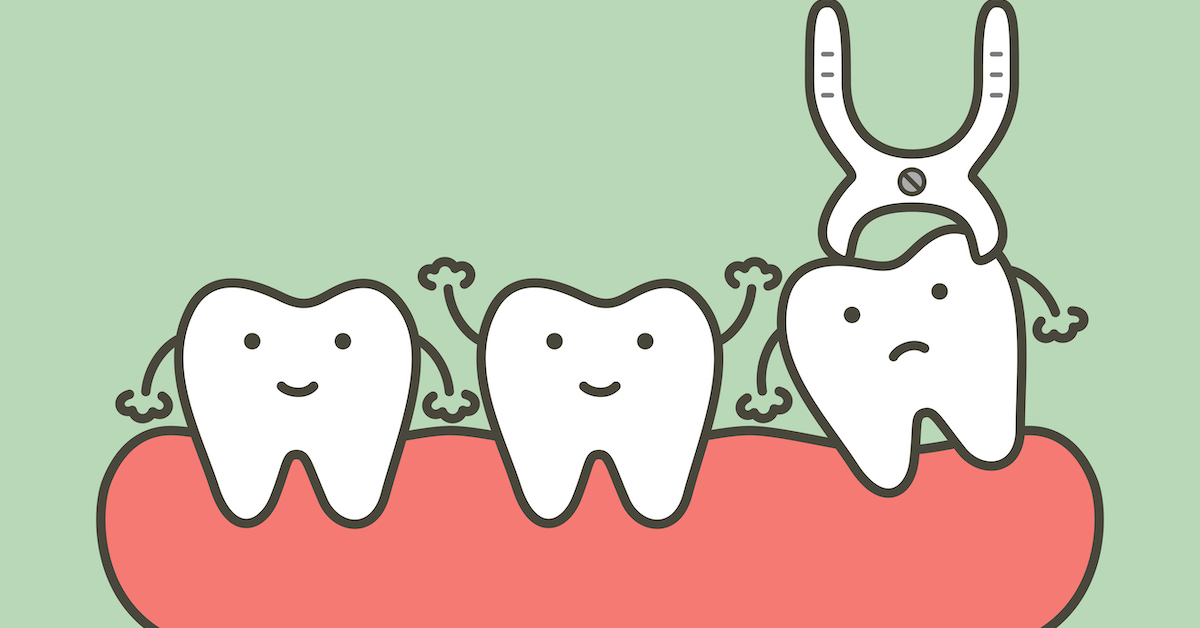 If you are concerned because your dentist has recommended the removal of one or more teeth, you are not alone. Many people have serious reservations about the potential for pain or the way their teeth will look after one has been removed. Consulting with a qualified dentist in South Bend is the best way to manage these issues and to prepare effectively for your upcoming extraction.
Types of Extractions
Depending on the position and condition of your tooth, your dentist may recommend a simple extraction or an oral surgery procedure. Here are some of the most important differences between these two types of extractions:
A simple extraction is usually performed under local anesthesia and involves the use of pressure and tools to remove all parts of the tooth from the gums and the jaw. These procedures can usually be performed in your regular dental office in South Bend.
More complex procedures may require oral surgery. Surgical extraction requires added training on the part of your dentist to remove the roots of your tooth fully. Oral surgery may be recommended for broken or severely decayed teeth and for teeth that are impacting or pushing on other teeth to cause damage. Surgical extractions are usually performed with both local anesthetic and intravenous or general anesthesia to prevent pain and stress.
Depending on the condition and the position of your wisdom teeth, your dentist may decide that they can be retained or that they should be removed for the overall health of your mouth. If you want your wisdom teeth removed, your dentist can often accommodate this request to prevent problems in the future.
Why Your Dentist May Recommend an Extraction
Most dentists will avoid extracting teeth unless it is absolutely necessary. Teeth may require extraction if they have been severely damaged or have been rendered non-viable by gum disease or by tooth decay. In most cases, your dentist will make every effort to preserve your natural teeth for as long as it is practical. If it is no longer viable, however, your dentist may recommend extraction for your tooth.
Preparing for Your Extraction Procedure
If you are concerned about pain associated with your extraction procedure, you can discuss this issue with your dentist in South Bend before planning your tooth removal. Your dental office can provide several different types of pain relief and anesthesia to ensure that you feel as comfortable as possible during your appointment.
Your dentist will also need to know about any medical conditions that could affect your dental treatment, including the following:
Diabetes
Diseases of the liver, thyroid or renal system
Deficiencies of the immune system
Heart disease, artificial heart valves and congenital heart defects
Artificial joints
In general, you should plan to avoid smoking on the day of your extraction and for a week or two after the procedure. Your dentist may also ask you to list the medications you are currently taking to make sure that they will not interfere with the procedure. If you are taking blood thinners, be sure to let your dentist know. You may be asked to stop these medications during the lead-up to your dental procedure. This can allow you to enjoy the safest and most painless extraction possible in your dental office in South Bend.
Antibiotics may be prescribed to reduce any infection in the gums or in the roots of your teeth. You may need to take these antibiotics for as long as two weeks to reduce swelling and to reduce risks associated with your procedure.
If you and your dentist decide on general anesthesia or sedation for your extraction, you will typically need to arrange for a ride home after the procedure. This will ensure that you are as safe and comfortable as possible after your extraction is complete.
What to Expect During an Extraction
You should arrive a bit early for your dental extraction. You may need to fill out paperwork before your appointment. Your dentist may also offer you some guidance on how to calm down and relieve stress before your extraction begins.
Your dentist may take an X-ray to check on the condition of your tooth and to help in planning your procedure on the day of the extraction. A local anesthetic will be applied to the area in which the extraction will take place. If you are undergoing a simple extraction, your dentist will then use forceps and other tools to remove the tooth completely. For oral surgery procedures, you may receive sedation or general anesthesia to keep you comfortable during the extraction process. Let your dentist know if you experience pain during the procedure.
Taking Care of Your Extraction Site
After your extraction is complete, you will be asked to bite down on a gauze pad to absorb any blood that may be present. Your dentist will typically observe you for at least an hour to make sure that no complications arise from your procedure. You should follow some guidelines during the period following your dental appointment:
Avoid brushing the area directly around the extraction site until it has healed.
You can use an ice pack to bring down swelling and inflammation after your extraction.
Prop yourself up with a pillow or sleep sitting up until the clot has fully formed in your extraction site.
Do not drink from a straw or rinse your mouth forcefully for at least a full day after your procedure.
Your dental office in South Bend will provide you with detailed instructions on how to manage your extraction process more effectively. Your dentist can also provide you with information on the right type of sedation or anesthesia for your procedure. By working with a trusted dentist in our area, you can ensure that your extraction and recovery period goes as smoothly as possible.