Posted under:
General
Posted on: November 9, 2022
What Is Oral Cancer?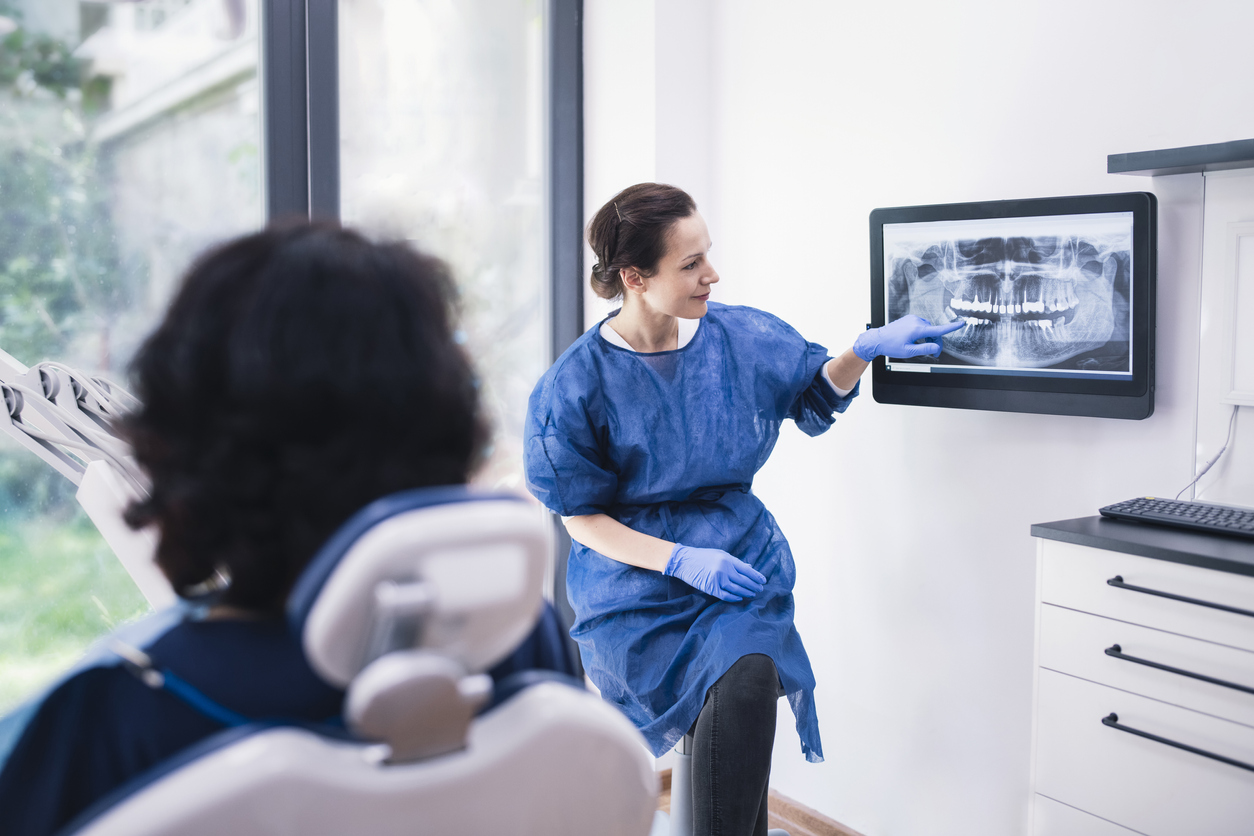 Oral cancer is any type of cancer (or abnormal cells) that are found inside of a person's mouth or in the back of the throat. It is found anywhere inside of the mouth, tongue and throat. It can also be found in the tissues lining the gums and mouth. Around 3% of all cancers that are diagnosed every year in the United States are oral cancers. This makes up approximately 53,000 cases per year. This type of cancer is most common in patients over the age of 40, but it can be found in anyone! As a part of November's Mouth Cancer Action Month, our practice is working hard to inform everybody of the causes of oral cancer. We're also providing you with information on how to detect, treat and prevent oral cancer.
Be sure that you're keeping your oral health intact by detecting any potential issues early on. Book your routine dental examination and cleaning with a dentist in South Bend today!
Can You Tell Me About Oral Cancer Symptoms?
Being "mouth aware" is one thing that you can do to help detect oral cancer in its early stages. If you have any of the below symptoms for a period of time longer than three weeks, you should contact your dentist to book an examination as soon as you possibly can.
1. An ulcer or sore that does not heal
2. An irritation or thick lump or patch in your mouth, lip, or throat
3. White or red patches in your mouth
4. A sore throat or the feeling that something is caught in your throat
5. Difficulty chewing, swallowing or speaking
6. Difficulty moving your jaw or tongue
7. Swelling of your jaw
8. Numbness in your tongue or other areas of your mouth
What Are the Causes of Oral Cancer?
The majority (nearly 90%) of cases of oral cancer are linked to preventable causes like smoking and the heavy use of alcohol. Smoking can increase the risk of oral cancer up to 10 times. In fact, two out of three cases of oral cancer are linked to the action of smoking. Heavy alcohol use also increases your risk of being diagnosed. If you combine smoking with heavy drinking, your risk increases further. Using chewing tobacco or smokeless tobacco also increases the odds of oral cancer. The toxic ingredients contained within these products is incredibly harmful to your oral health.
Unhealthy diets that don't consist of the vitamins and minerals that you need also contribute to high oral cancer risks. Age and sun exposure are other factors that can increase your risk of having oral cancer.
Who Can Diagnose Oral Cancer?
Since oral cancer can rapidly spread to other parts of your body it's important that it is detected as early as possible. While the early signs can be difficult to detect on your own, your dentist can perform oral cancer screenings as a part of your regularly scheduled checkup. Screening for oral cancer is painless. It consists of your dentist looking at your face, neck, lips and jawlines for any signs of cancer or lumps that could indicate oral cancer. He or she will also look at the inside of your lips, cheeks, tongue, and other parts of the inside of your mouth for abnormalities that could point towards oral cancer.
What Kind of Treatments Are Used for Oral Cancer?
If anything indicating that you have oral cancer is found during your oral cancer screening, your dentist will most likely refer you to a specialist or team of specialists. Your team will probably consist of your regular dentist, an oral surgeon and an oncologist (a doctor who has specialized in treating cancer). Commonly utilized treatments are surgery, radiation, or chemotherapy.
The type of treatment that you will need to undergo to treat your cancer will depend on a variety of factors. Those factors include the condition of your overall health, where the cancer is located, the size and type of any tumors found, and whether the cancer has moved to other areas of the body. Surgery is almost always utilized to remove the cancer and any surrounding tissues. Depending on how advanced the cancer is, radiation therapy or chemotherapy may also be used. An innovate type of treatment known as targeted therapy may also be used. Targeted therapy utilizes medicine to identify and attack cancer cells located within your mouth.
Be sure that you're keeping your oral health intact by detecting any potential issues early on. Book your routine dental examination and cleaning with a dentist in South Bend today!
Oral Cancer Prevention
Since oral cancer can happen to anyone, it's important that you know how to prevent it. You should also know the various signs to look out for so that you can determine if you may be in the early stages of the disease. The best thing anyone can do to prevent oral cancer is to live a healthy lifestyle. Refrain from smoking tobacco, chewing tobacco, smokeless tobacco, and heavy alcohol use. Staying away from those types of activities do wonders when it comes to preventing oral cancer from developing. You should also be seeing your dentist on a routine basis to receive thorough checkups, professional cleanings, and oral cancer screenings. This allows your oral (and therefore your overall physical health) to remain as healthy as possible.
When it is caught in its earliest stages, oral cancer is fairly treatable. Catching it early on depends on you being mouth aware, as well as seeing your dentist regularly. Make healthy lifestyle choices regarding your diet, daily habits, and activities. Remember, oral cancer can happen to anyone. Speak to your dentist whenever you have concerns about the status of your oral healthcare.
Be sure that you're keeping your oral health intact by detecting any potential issues early on. Book your routine dental examination and cleaning with a dentist in South Bend today!