Simple Steps for Combating Tooth Decay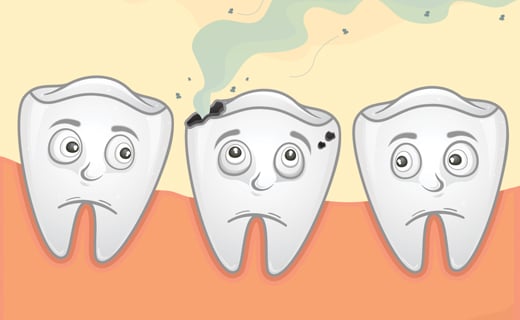 For years, you have been hearing about the problem of tooth decay. Going all the way back to your school days, you have likely endured many lectures about the need to brush, floss, and see a dentist regularly. Even so, you may not have a complete grasp of what tooth decay actually is and how it occurs. Luckily, the information below offers a quick snapshot of what you need to know about cavity prevention and tooth decay.
Simply put, tooth decay is caused by the breakdown of a tooth's structure, which impacts the outer enamel as well as the dentin. Tooth decay happens when carbohydrate-rich food and beverage items like candy, bread, milk or fruit are allowed to remain on the teeth after being consumed. Bacteria that naturally reside in the mouth then feed on those starches and sugars, transforming them into acid. These elements combine to create plaque, which sticks stubbornly to your teeth. Ultimately, the acids work to dissolve tooth enamel, causing the holes known as cavities.
Tooth decay can become a serious problem for adults, as well as children, but simple cavity-prevention techniques can work wonders. Brushing at least twice daily with fluoride toothpaste—particularly before bed—helps remove food build-up. Flossing or using an interdental cleaner also helps to eliminate food particles. Living a healthy lifestyle, eating well, and keeping snacks to a minimum helps stop residual carbohydrates from sitting atop the teeth and causing cavities. Drinking lots of fluoridated water also helps when it comes to cavity prevention. Visiting a dentist twice a year for thorough exams and cleanings is also essential to maintaining good oral health.
Today, affordable dentists everywhere are beginning to recommend that patients chew sugarless gum containing xylitol, which has been shown to slow the bacterial growth responsible for tooth decay. In addition, researchers are working on new products that may be placed between teeth in order to provide a slow release of protective fluoride over time. Other potentially imminent breakthroughs in cavity prevention include rinses and toothpastes that may actually reverse cavities when used at an early stage of their development.
By adopting some healthy lifestyle habits and following a series of cavity-prevention techniques, you can make a big difference in preventing tooth decay.
To learn about our family dentistry practice in South Bend, call The Dental Center of Indiana today or make an appointment.
---
The Dental Center of Indiana offers affordable family dentistry and gentle, compassionate dental care in South Bend. With 6 affiliated practices throughout Indiana, our offices are conveniently located with extended hours to meet your needs. At The Dental Center of Indiana, we provide most dental services, from basic preventative care and general dentistry to specialized procedures and complete dental reconstruction. We accept most dental insurance plans and offer affordable financial solutions for any budget. Patient satisfaction is our top priority and we strive to provide the exceptional, affordable dental care and personal touch that lead to lasting relationships. A smiling patient is our greatest reward and we look forward to keeping those smiles healthy, beautiful, and bright. Discover an affordable dentist who truly cares at The Dental Center of Indiana.