Posted under:
General
Posted on: December 23, 2014
Pulling Teeth – Extraction Risk, Recovery, and Cost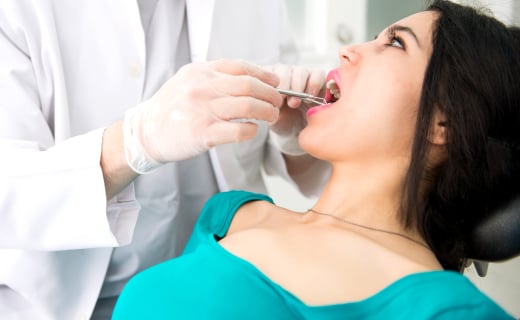 Also called exodontia or tooth-pulling, dental extraction is the process of completely removing a tooth from its socket. Tooth extractions are performed as a last resort when a tooth is too badly damaged to be saved by other types of dental treatment. A simple extraction refers to the removal of a tooth that is visible in the mouth. Surgical extractions are performed on teeth that are buried beneath gum tissues, such as impacted wisdom teeth. In some cases, teeth are removed to resolve crowding issues.
Reasons for Tooth Extractions
Severe decay, damage, or trauma
Misaligned or non-functional teeth
Orthodontic treatment
Radiation or chemotherapy
Impending organ transplant
Preparing for a Dental Extraction
Before a dental extraction, your dentist will record your medical history carefully. You may receive antibiotics if you have a heart murmur, weak immune system, or infection is likely. You'll also have the opportunity to discuss anesthesia and sedation options such as local anesthetic injection, nitrous oxide, oral sedation, and general anesthesia.
What You Will Experience During the Procedure
For simple tooth extractions, you'll receive an injection of local anesthetic in your jaw or gums. Once the area is numb, the dentist will grasp the tooth with extraction forceps and gently rock is back and forth to loosen it. Other tools may be used to help remove the tooth. You may feel pressure, but you should not feel any pain. A surgical extraction is more complicated, but you will probably be under general anesthesia and will not remember the process. After the procedure, you'll be given a set of specific instructions concerning aftercare, diet and oral hygiene. To ensure a smooth recovery, follow all instructions carefully.
Possible Complications of Tooth Extractions
Dry socket occurs when no blood clot forms in the socket or a formed one becomes dislodged. The absence of the clot exposes sensitive nerves and bone to air. The condition is painful, but it is easily treated with a medicated dressing. Other potential complications include the following:
Damage to neighboring teeth
Misalignment
Jaw Fractures
Infection
Nerve injury
Extraction Costs
Extraction costs vary. In general, the more difficult it is to remove the tooth, the more expensive it will be. Many dental insurance plans cover a large percentage of the cost. An affordable dentist can often work with you to manage the financial impact of a tooth extraction or other dental procedures.
To learn about our family dentistry practice in South Bend, call The Dental Center of Indiana today or make an appointment.
---
The Dental Center of Indiana offers affordable family dentistry and gentle, compassionate dental care in South Bend. With 6 affiliated practices throughout Indiana, our offices are conveniently located with extended hours to meet your needs. At The Dental Center of Indiana, we provide most dental services, from basic preventative care and general dentistry to specialized procedures and complete dental reconstruction. We accept most dental insurance plans and offer affordable financial solutions for any budget. Patient satisfaction is our top priority and we strive to provide the exceptional, affordable dental care and personal touch that lead to lasting relationships. A smiling patient is our greatest reward and we look forward to keeping those smiles healthy, beautiful, and bright. Discover an affordable dentist who truly cares at The Dental Center of Indiana.