Painful Dental Emergencies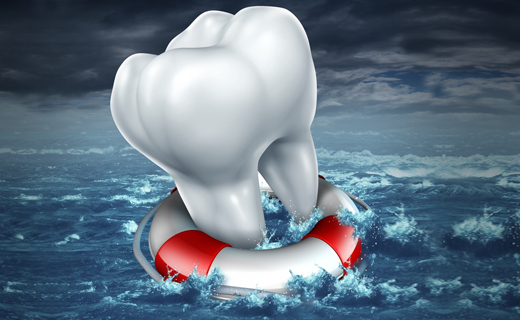 If you had a toothache recently, you're not alone. Dental emergencies are a major source of pain and suffering in America. A recent survey found that 22 percent of the population experienced orofacial pain and 12 percent suffered a toothache within the last six months. The first step in evaluating a dental emergency is uncovering the cause of pain. Although migraines, nasal, or sinus inflammation and problems with ears and temporomandibular joints are possible pain sources, dental problems are most common.
Painful Conditions Commonly Seen in Emergency Dentistry
Cavities aren't usually painful until aggressive decay causes inflammation of your tooth's pulp. Emergency tooth extraction is rarely necessary, but you may need to have a root canal treatment to save your tooth.
Advanced periodontal disease may result in abscesses that cause pain, facial swelling, and pus drainage. A dentist can make an incision to drain the abscess if your pain is severe. In some cases, antibiotic treatment is necessary. If you have symptoms of an abscess, you should see a dentist within 24 hours.
Partially erupted wisdom teeth can be a cause of swelling, pain, tenderness, and an unpleasant taste. If you experience symptoms in the area of a wisdom tooth, see your dentist for evaluation immediately. Surgical treatment may be necessary to resolve the problem if it the tooth does not fully erupt on its own.
Trauma to teeth can result in fractures, loosening, displacement, and avulsion. In all cases, prompt evaluation from an emergency dentistry specialist is essential. After taking x-rays, your dentist can develop a treatment plan to repair or minimize damage.
Avulsed or knocked-out teeth are completely removed from their sockets. Ideally, an knocked-out tooth should be re-implanted on the spot. If it is dirty or contaminated, rinse it gently with water first. Do not touch or scrub the tooth's root. See your dentist in South Bend immediately for further treatment.
Preventing Dental Emergencies
You can prevent many emergencies by maintaining good oral hygiene, seeing your dentist regularly, and wearing protective mouth guards or helmets during sports activities.
To learn about our family dentistry practice in South Bend, call The Dental Center of Indiana today or make an appointment.
---
The Dental Center of Indiana offers affordable family dentistry and gentle, compassionate dental care in South Bend. With 6 affiliated practices throughout Indiana, our offices are conveniently located with extended hours to meet your needs. At The Dental Center of Indiana, we provide most dental services, from basic preventative care and general dentistry to specialized procedures and complete dental reconstruction. We accept most dental insurance plans and offer affordable financial solutions for any budget. Patient satisfaction is our top priority and we strive to provide the exceptional, affordable dental care and personal touch that lead to lasting relationships. A smiling patient is our greatest reward and we look forward to keeping those smiles healthy, beautiful, and bright. Discover an affordable dentist who truly cares at The Dental Center of Indiana.