Posted under:
General
Posted on: January 6, 2015
Managing a Common Orthodontic Dental Emergency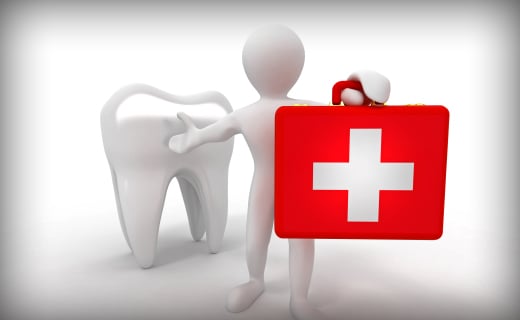 If you wear traditional braces, you may occasionally encounter a dental emergency involving the small components of your appliance such as wires and bands. Most of the time, a broken or loose part doesn't constitute a true dental emergency, and you can handle it at home using a few simple supplies. Knowing how to manage common orthodontic mishaps at home saves time and prevents misery. Keep the following list of tools and helpful tips on hand for times when you can't call your orthodontist for help.
Emergency Dental Supply Kit for Braces
Orthodontic relief wax
Dental floss
Interproximal brush
Sterile tweezers
Toothpicks
Small, sharp clippers
Over-the-counter pain medications
Cotton swabs
Over-the-counter benzocaine-based topical anesthetic
Table salt
Food Trapped Between Teeth
Tie a knot in a piece of dental floss to help dislodge the food, or use an interproximal brush or toothpick.
Lost Ligature Wire or Band
Use sterile tweezers to replace rubber ligatures or remove loose wire ligatures. If a wire is sticking out and causing irritation, bend it back with a cotton swab. If you cannot find or replace a missing part, call your orthodontist to determine if you need to make an appointment.
Mouth Discomfort or Irritation
Some discomfort is normal after adjustments, but it can make eating difficult. Most emergency dentists encourage eating a soft diet and rinsing with warm, salty water. Take pain relievers if necessary. To prevent further irritation from braces, place a pea-sized amount of orthodontic relief wax over the painful area to create a buffer between soft tissue and metal parts.
Mouth Sores
Irritation from braces may contribute to mouth sores or make them more painful. Apply a benzocaine-based oral anesthetic to ulcerated areas using a sterile cotton swab, and reapply as often as needed.
Protruding Wire
If a wire works itself out of position, use a cotton swab to push it flat against your tooth. If this is not possible, cover it with dental wax.
Loose Brackets, Wires, or Bands
Call your orthodontist as soon as possible to discuss the appropriate treatment.
Knocked-Off Bracket
Impact to the mouth area or eating crunchy foods can dislodge a bracket. If the bracket has rotated, center it between two adjacent teeth, rotate it back to its normal position, and then slide it back into place.
To get the dental care you deserve from an affordable dentist in South Bend, call The Dental Center of Indiana today or make an appointment.
---
The Dental Center of Indiana offers affordable family dentistry and gentle, compassionate dental care in South Bend. With 6 affiliated practices throughout Indiana, our offices are conveniently located with extended hours to meet your needs. At The Dental Center of Indiana, we provide most dental services, from basic preventative care and general dentistry to specialized procedures and complete dental reconstruction. We accept most dental insurance plans and offer affordable financial solutions for any budget. Patient satisfaction is our top priority and we strive to provide the exceptional, affordable dental care and personal touch that lead to lasting relationships. A smiling patient is our greatest reward and we look forward to keeping those smiles healthy, beautiful, and bright. Discover an affordable dentist who truly cares at The Dental Center of Indiana.