Posted under:
General
Posted on: November 19, 2020
Invisalign: Frequently Asked Questions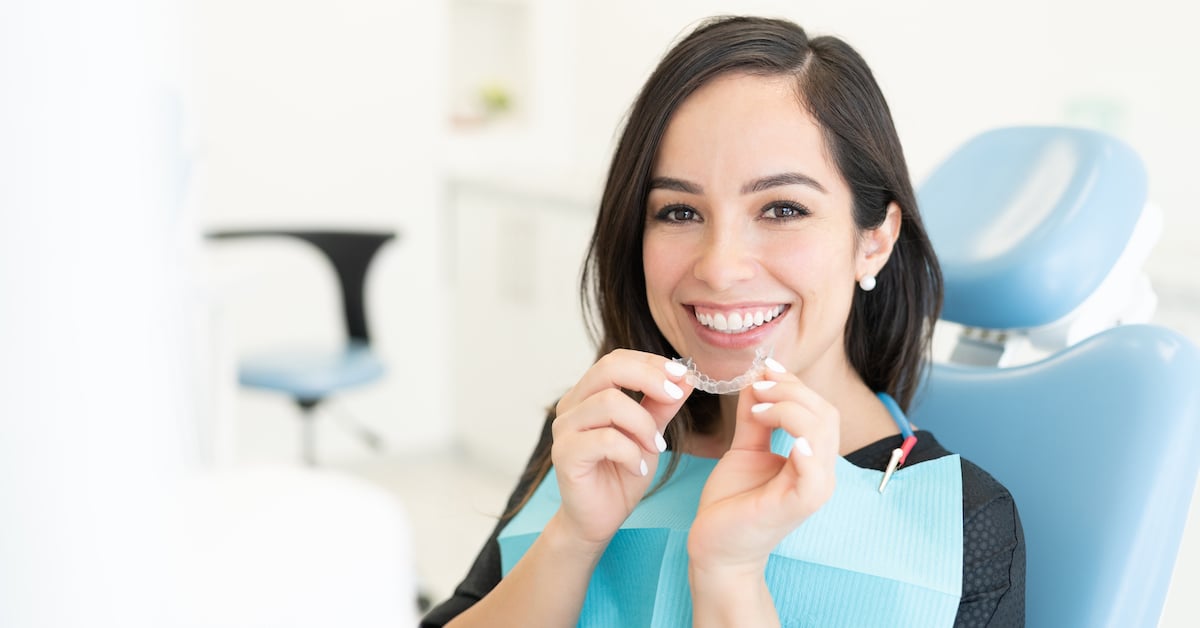 When people envision a perfect smile, they always envision a line of straight teeth. However, issues with crooked and misaligned teeth are incredibly common. If you're seeking out treatment for your orthodontic problems, but desire to avoid a visibly obvious treatment method such as metal braces, you'll be excited to learn all about Invisalign. Invisalign is a modern and effective treatment for fixing moderate orthodontic issues. More and more our patients are looking for less-noticable options for fixing their teeth and Invisalign delivers that and more.
How Is Invisalign Different From Braces?
Invisalign works in the same way that traditional, wire-and-bracket braces do by slowly pushing the teeth into their desired position over a period of time. The difference between the two is that Invisalign is a system of clear, plastic aligners that aren't as noticeable as braces. Made out of flexible plastic called SmartTrack, Invisalign aligners are contoured to fit an individual's mouth, making them comfortable to wear as well. This innovative treatment method is an excellent option if you're wanting to discreetly correct issues like an overbite or underbite, gapped teeth or crowded teeth.
Who Are Good Candidates for Invisalign?
The best candidates for Invisalign therapy are teens and adults with mild to moderate orthodontic concerns like crooked teeth, crowded teeth, gapped teeth, overbites or underbites. Individuals with severe issues will need to have braces or headgear.
There are a few factors to consider in determining whether or not this a good treatment option for you. They are as follows:
Invisalign treatment can only be given to people who have fully grown jaws and all their teeth erupted. This excludes small children and young teens from being able to receive this type of treatment.
The aligners need to be worn for a period of 20 to 22 hours each day. If you are unable to make this kind of commitment, you should look into receiving more traditional forms of orthodontic treatment.
If you're looking for a discreet way of correcting your misaligned or crooked teeth, then Invisalign could be the solution that you're looking for. Most people won't be able to tell that you're wearing any kind of orthodontic corrective device.
When it comes down to it, your dentist or orthodontist will make the final call as to whether or not you can receive this type of treatment. In order to find out if this is a good option for you, contact our team and schedule a consultation today.
What Can I Expect During My Invisalign Treatment?
Your Invisalign treatment will consist of an initial consultation where your dentist or orthodontist will determine if you can pursue this type of treatment successfully. If this is the case, you will develop a customized treatment plan that will help you to meet your orthodontic health goals.
The next step in the process is when the dentist takes a mold of your teeth that will be used to make your aligners. You will receive several sets of aligners that will be swapped out on a weekly or bi-weekly basis.
You will also be expected to see your dentist every four to six weeks so that he or she can check your progress. Most patients receiving Invisalign therapy complete their course of treatment within 12 to 18 months. The length of time you will undergo treatment will vary according to your goals, the severity of your case and how well you adhere to your dentist's instructions and recommendations.
What Kind of Effect Will Invisalign Have on My Life?
One of the things that patients appreciate about Invisalign is that it doesn't have much of an impact on your daily life. Since you take out the aligners when you eat or drink, you won't have any food or beverage restrictions. You will also need to remove your aligners when you brush your teeth. It's also recommended that you avoid smoking. You should also take out your aligners if you are going to chew gum.
For the most part, there isn't a whole lot of discomfort involved with wearing Invisalign aligners. You may experience some pressure whenever you move into the next step of your treatment. This is usually resolved within a few days.
Since the materials utilized in fabricating the aligners are pliable and custom-fitted, you won't have to worry about them negatively affecting your speech. It may take a few days to adjust to wearing them, but after that you should be able to interact with others normally.
If you're wondering whether or not others will be able to notice that you are wearing Invisalign aligners, then you're not alone. It's important to note that the aligners aren't entirely invisible; however, they are much less noticeable than other orthodontic treatment options. If you're worried about interacting with someone closely at a big event, then you can always take your aligners out for a brief period of time.
What Happens When You've Completed Treatment?
Once you've reached the end of your treatment plan, all you have to do is take out your last set of aligners. The dentist or Invisalign provider may recommend that you wear a retainer after your treatment is finished. This is so your teeth won't shift out of place again. If this is the case, our team will consult with you in order to find the retainer that best meets your needs.
Can My Local Dentist Provide Invisalign Treatment?
The good news is that you can receive Invisalign therapy right here at our practice. Our team of dental and orthodontic professionals have been trained in providing this type of treatment. If you're in need of orthodontic corrections, contact us as soon as you can. We will schedule you for an appointment with one of our specially trained providers so that you can find out if you are a good candidate for Invisalign. We're also happy to address any concerns or answer any questions you may have about orthodontia in general. Let us help you with your smile!