Chew Over the Facts About Tooth Extraction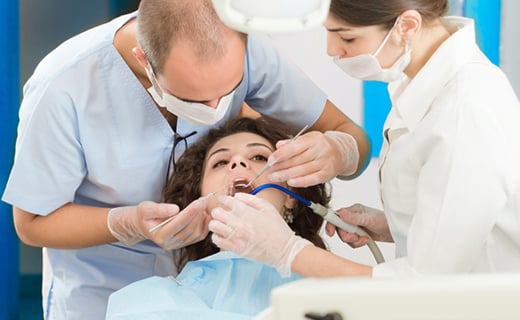 Tooth extraction is a dental procedure where a tooth is removed from its place in the bone. It's often the only route to relief when a tooth is causing you pain and problems. If you're expecting to have a tooth extraction, we've compiled some advice and answers to prepare you for the procedure.
Dentists prescribe tooth extractions for many different reasons. Most often, they're suggested when a tooth is damaged beyond repair, but they're also advised if the mouth is overcrowded, to help with spacing for braces, if there's a risk that the tooth could cause infection, or if the problem involves wisdom teeth.
There are two types of tooth extractions. The first is a simple tooth extraction, which is performed by your general dentist in South Bend when the tooth is easy to remove. Most simple extractions only require a local anesthetic to numb any discomfort. The other type is a surgical extraction and it's performed by an oral surgeon when the removal is more complex. This calls for a stronger general anesthetic, which allows you to sleep you through the procedure and prevents any pain.
Before you have the tooth extraction, your affordable dentist will take some x-rays for a complete view of the problem. You will need to share your medical and dental history, along with your medications and allergies, to avoid any complications. Then, you'll be given instructions for the day of the procedure, such as avoiding eating or drinking for eight hours before the extraction, as well as arranging to have a person that will drive you home and stay with you.
Once the procedure is over, a piece of gauze will be placed over the wound to encourage a blood clot to form. Be careful not to touch or disturb this clot since it helps with proper healing.
And the way to ensure a speedy recovery is to follow your dentist's directions for at-home dental care. After a simple extraction, you can expect some minor pain and swelling, but you'll probably be given a pain reliever to ease any discomfort. Since surgical extractions are more complex, they usually cause a little more pain. This is why surgeons prescribe pain medication for the first few days after surgery. In addition to taking these medications, take these tips for relief in recovery:
Reduce swelling on your face by applying cool ice packs.
Decrease soreness and stiffness in your jaw by placing warm compresses over the area.
After 24 hours, gently rinse your mouth with warm salt water to keep the area clean.
Only eat soft foods for the first few days, and then add firm foods as you start to heal.
Do not drink though a straw, spit, or smoke after surgery since these actions can disturb the blood clot.
Be aware that initial healing takes at least two weeks, so be extremely careful around the wound to avoid causing complications. The most frequent problem is dry socket, which is a painful condition that occurs when the blood clot is prevented from fully forming. Dry socket must be treated immediately to allow for proper healing. You may also want to call your dentist in South Bend if you experience other problems, such as severe swelling, extreme redness, ongoing bleeding, fever, chills, difficulty swallowing, prolonged numbness, or sharp pains around the tooth extraction area. While these issues may be cause for concern, your dentist can treat all of the troubles and help you get back on the road to recovery.
To get the dental care you deserve from an affordable dentist in South Bend, call The Dental Center of Indiana today or make an appointment.
---
The Dental Center of Indiana offers affordable family dentistry and gentle, compassionate dental care in South Bend. With 6 affiliated practices throughout Indiana, our offices are conveniently located with extended hours to meet your needs. At The Dental Center of Indiana, we provide most dental services, from basic preventative care and general dentistry to specialized procedures and complete dental reconstruction. We accept most dental insurance plans and offer affordable financial solutions for any budget. Patient satisfaction is our top priority and we strive to provide the exceptional, affordable dental care and personal touch that lead to lasting relationships. A smiling patient is our greatest reward and we look forward to keeping those smiles healthy, beautiful, and bright. Discover an affordable dentist who truly cares at The Dental Center of Indiana.