Are Your Teeth Safe from the Ravages of Periodontal Disease?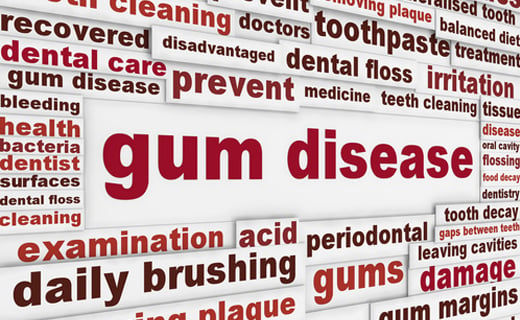 Three out of four people will eventually develop gum disease in their lifetimes. Marked by chronic inflammation and infection of gums and surrounding connective tissue, it causes 70 percent of tooth loss in adults. Periodontal disease in its earliest stage is called gingivitis and is often reversible. Later, it progresses to the more serious periodontitis. Risk factors for gum disease include poor oral hygiene, smoking, genetics, inadequate nutrition, immune suppression, uncontrolled diabetes, pregnancy, and hormonal imbalance. Anything that produces irritation and plaque buildup can increase your risk.
Bacterial plaque is an invisible, sticky film that forms on teeth. If it isn't removed daily by brushing, it hardens into calculus or tartar. Toxins produced by the accumulation of plaque and tartar irritate gum tissues. As a result, deep pockets form between the teeth and gums; these fill with more bacteria and debris, and accelerate the disease process. Tissue destruction progresses until teeth become loose and fall out or require extraction.
Common Warning Signs of Gum Disease
Gums that bleed easily
Red or swollen gums, gum tenderness
Gums pulling away from teeth
Loose teeth
Chronic bad breath
Visible pus between teeth and gums
Changes in bite or the fit of dentures
No symptoms at all
Treatment and Prevention
A special cleaning process known as scaling and root planing can help resolve symptoms of early periodontal disease. Antibiotics and medicated rinses are prescribed to treat advanced infection. Severe cases may require surgery to reposition gum tissues, remove hardened plaque, and re-contour damaged bone. Twice-daily brushing, daily flossing, and regular professional cleaning can help prevent the disease. A general dentist can treat most cases, but advanced conditions may require treatment from a periodontist.
Keep Gums Healthy at Home
To keep gums healthy after periodontal therapy, maintain strict oral hygiene practices. See your dentist or hygienist regularly for deep cleaning procedures and comprehensive exams. Use products and techniques recommended by your dentist in South Bend and schedule an appointment if your gum symptoms become worse or new ones appear.
To learn about our family dentistry practice in South Bend, call The Dental Center of Indiana today or make an appointment.
---
The Dental Center of Indiana offers affordable family dentistry and gentle, compassionate dental care in South Bend. With 6 affiliated practices throughout Indiana, our offices are conveniently located with extended hours to meet your needs. At The Dental Center of Indiana, we provide most dental services, from basic preventative care and general dentistry to specialized procedures and complete dental reconstruction. We accept most dental insurance plans and offer affordable financial solutions for any budget. Patient satisfaction is our top priority and we strive to provide the exceptional, affordable dental care and personal touch that lead to lasting relationships. A smiling patient is our greatest reward and we look forward to keeping those smiles healthy, beautiful, and bright. Discover an affordable dentist who truly cares at The Dental Center of Indiana.