Posted under:
General
Posted on: April 12, 2023
Affordable Smile Makeover Options in South Bend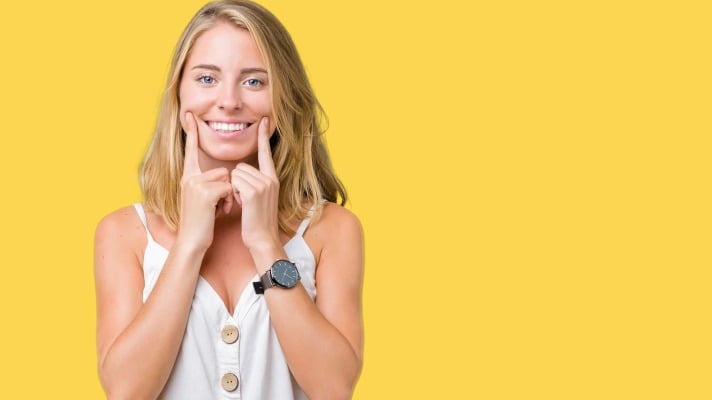 Smile makeovers are a great way to boost your confidence and overall appearance. Unfortunately, for many people, the cost of a total smile makeover can be a significant barrier. At The Dental Center of Indiana in South Bend, we offer several affordable options to help you get the smile you've always wanted without breaking the bank.
Teeth Whitening
Teeth whitening is the process of using different techniques to remove stains and discoloration from teeth, making them appear whiter and brighter. Teeth can become discolored for several reasons, including aging, smoking, certain medications, and consuming dark-colored foods and drinks like coffee, tea, and red wine. There are a few popular ways to whiten your teeth, including:
In-Office Whitening: This is a professional teeth whitening treatment that we do during a visit to our office using a high-concentration bleaching gel and a special light or laser to activate the gel.
At-Home Whitening: This option involves using a customized tray or strips filled with a lower-concentration bleaching gel that can be worn at home for a specified period of time.
It's important to note that teeth whitening is not a permanent solution and may need to be repeated periodically to maintain the desired level of whiteness. It's also important to consult with a dentist before undergoing any teeth whitening treatment to ensure that your teeth and gums are healthy enough for the procedure.
Dental Bonding
Dental bonding is a cosmetic dental procedure that involves applying a tooth-colored composite resin material to the teeth. The material is bonded to the teeth using a special adhesive and then shaped and polished to match the surrounding teeth, creating a natural-looking result. Dental bonding is a versatile procedure that can be used to correct a variety of dental issues, including:
Repairing chips or cracks in teeth
Filling in gaps between teeth
Covering exposed tooth roots due to gum recession
Improving the appearance of stained or discolored teeth
Changing the shape or size of teeth
Protecting a portion of the tooth's root that has been exposed due to gum recession
The procedure is typically quick and painless, and we can finish it in a single visit to our office.
Dental Implants
If you have missing teeth, dental implants in South Bend are a great option for a smile makeover. Dental implants are artificial tooth roots made of titanium that are surgically placed into the jawbone to support a dental restoration, such as a crown, bridge, or denture. Dental implants are a popular and effective long-term solution for missing teeth, as they look, feel, and work like natural teeth. They also help to preserve the integrity of the surrounding teeth and jawbone by preventing bone loss and reducing the risk of further tooth loss.
Dental implants require patients to spend a decent amount of time and money, as getting implants typically involves several appointments and a healing period of several months. However, for patients who are good candidates for the procedure, dental implants offer several benefits and can last a lifetime with proper care and maintenance.
Dentures
If you have missing teeth and want to restore your smile, dentures may be a good option for you. There are two main types of dentures: complete dentures, which replace all of the teeth in your upper or lower jaw, and partial dentures, which replace one or more missing teeth and attach to your remaining natural teeth with metal clasps.
We will create custom-made dentures tailored to fit your mouth and we usually make them from acrylic resin or metal. You can remove them for cleaning and maintenance, and they may need routine adjustments or relining to ensure they fit comfortably and securely.
Veneers
For those with multiple dental issues such as gaps, chips, and discoloration, veneers are a common solution for enhancing a smile. These thin, tooth-colored shells are placed on the front of your teeth to give them a better appearance. However, it's important to note that this method of smile makeover can be more expensive.
If you want to improve your smile in South Bend without spending too much, you should talk to your dentist at The Dental Center of Indiana. We will examine your teeth and suggest the best treatment options that suit your budget and needs. Additionally, our staff will explain the cost of each option while giving you a detailed breakdown so you can see which one is most feasible for your situation.
It's important to mention that some dental insurance plans may cover some of the costs of certain procedures if they not only enhance your appearance but are also considered medically necessary. For instance, some plans may offer coverage for a portion of crown placement as it's considered vital to preserving the structure of your tooth. Talk with your insurance provider to learn what's included in your particular plan.
Getting a smile makeover in South Bend can make your dream smile come true and improve your appearance and confidence. However, the cost might stop some people from getting the treatment. Luckily, there are many affordable options to achieve the smile you want without spending too much. If you're looking for teeth whitening, dental bonding, dental implants, dentures, and veneers, we offer all of these services at The Dental Center of Indiana.
If you're ready to get a smile you can't wait to show off, talk to your dentist in South Bend at The Dental Center of Indiana. We're happy to go through your options and check with your insurance to see what they will cover. With a little planning and research, you can have a beautiful smile without taking a financial hit.